Tires for SUVs & CUVs
Firestone Complete Auto Care carries a wide range of SUV tires and CUV tires from trusted brands.  
Take Advantage of the Perks of an SUV or CUV
Known for being versatile and more fuel efficient, SUVs and CUVs are designed with comfort and safety in mind. The right SUV tires can ensure your vehicle is equipped to reach its full potential.
How to Choose the Best CUV and SUV Tires
Shopping for CUV or SUV tires can be daunting when you aren't sure what to look for. Make sure you're capitalizing on the benefits of driving an SUV or CUV by considering these factors:
DRIVING TERRAIN
Do you strictly stick to well-travelled city roads and highways, or are you more of a backroad or off-road driver? Choose tires built for the roads you drive on.
SEASONAL OPTIONS
If you expect to be driving on snowy and icy roads, winter tires are a smart investment that will keep you safe behind the wheel.
TREAD LIFE
All-season tires generally have the longest tread life, but driving style and habits have an impact on tread life and the longevity of your tires.
Our Tire Brands
Proud to carry the world's best tire brands
Search for SUV & CUV Tires
3 common questions about SUV & CUV tires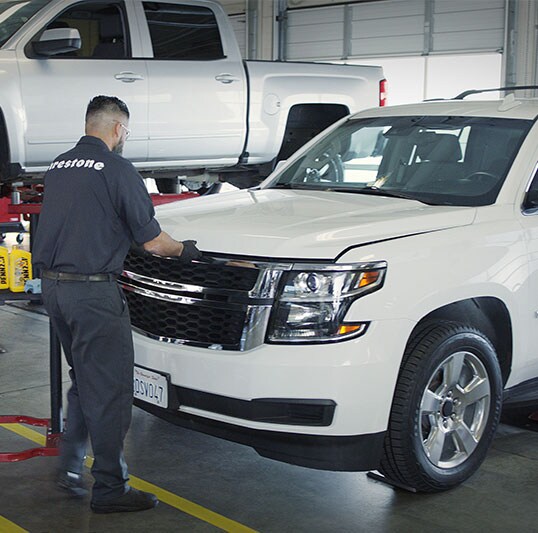 Do I need performance SUV tires?
Just like any vehicle, performance or ultra-performance tires are ideal for summer driving. The type of tire you need will depend on your priorities. Are you looking for off-road performance? Choose a set of SUV tires designed to handle rough terrain. If you consider yourself primarily a city driver, all-season tires will give you the all-around performance you need. 
What are the best SUV tires?
"Best" is a relative term when it comes to SUV tires. The "right" SUV tires for you is all about your budget, your driving habits, and your expectations as a driver. Firestone has the top-rated tire brands in the world—browse our selection to find SUV tires that are right for your vehicle.
How much do SUV tires cost?
The cost of SUV tires varies according to the type of tire. For a basic set of all-season tires, they could range anywhere from $50-$150 each. Winter tires are usually in the $150-$200 range. Don't forget to factor in the cost of tire installation which is also calculated per tire.   
Ready to shop SUV & CUV tires?   Shop Now