About Us
Why We're Your Complete Auto Care Solution
Nothing Says Complete Like Firestone Complete Auto Care
At Firestone Complete Auto Care, we offer you the complete experience. From the moment you walk in, you're met with some of the best customer service that can provide up-to-date knowledge on our quality products, the right solutions for your auto care needs, and initiatives that help improve your community and environment. Because we believe that every customer should leave with complete confidence in knowing we helped their car run newer longer.
OUR OFFER TO YOU
Nobody looks forward to the moments when your car needs a little extra attention. And at Firestone Complete Auto Care, we get that. That's why since 1926, we've been treating every vehicle with complete care as if it were our own. And it's because our team of professionals understands cars and the people who drive them. We use advanced technology and offer quality products from brands you trust—all of which add up to a complete, car caring experience.
COMPLETE CONFIDENCE AND CONVENIENCE
At Firestone Auto Care, we know your time is valuable. And there's never a convenient time to get your car serviced or checked up. Which is why we're committed to giving your car the complete care it needs, done right, the first time. After all, we pride ourselves in getting you back on the road safely as soon as possible.
TRUST BUILT TO LAST
We're proud to say we've been taking care of our neighbors since 1926 and that's why we're featuring some of our longest tenured customers, like Bob.
Bob has trusted lead technician Chuck to work on his vehicles and his family's for 20 years and counting. Knowing where to get the right know-how about your car is what brought Bob into Firestone. For him, Firestone Complete Auto Care was a one stop shop for all his car's needs—and the only shop he's stopped at since moving to Charlotte, NC. Check out the complete story.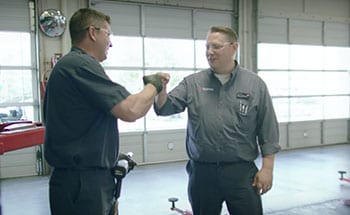 OUR PROMISE TO YOU
Since 1926, drivers have trusted Firestone Complete Auto Care to keep their vehicles running newer longer. And as America's auto care needs have grown and changed, so have we.
We're a leading provider of maintenance, repairs and tires for a reason: because we believe in offering a complete auto care experience that perfectly meets your needs.
Our auto care advisors and service technicians take pride in understanding your vehicle from bumper to bumper. We back our services and repairs with a nationwide warranty that's good at each of our more than 1,700 convenient store locations. Plus, we'll always answer your questions and explain our work to you so you feel comfortable from the moment you walk in until you're back on the road.
We promise to provide the best customer service and offer the right solutions, so you can feel confident in knowing we're your complete auto care solution.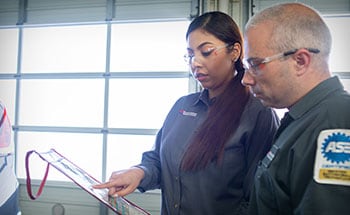 We're Involved In Your Community
Firestone Complete Auto Care does more than provide you with high-quality maintenance, repairs and tires. We're involved in a wide variety of programs that improve the lives of individuals and the communities we call home.
For nearly 40 years, Firestone Complete Auto Care has offered insight into car care basics through our free, award-winning Car Care Academies. Each hands-on workshop delivers important information on basic vehicle maintenance, safety and how to keep your car running newer, longer. To attend one of our free, award-winning Car Care Academies presented by a professional automotive technician, please contact your local Firestone Complete Auto Care location.
By partnering with Boys and Girls Clubs of America, BSRO empowers BGCA to serve more members, more often. The partnership ensures every kid and teen is engaged productively during out-of-school time, learning essential lessons outside the classroom.
Working For The Environment
Your Firestone Complete Auto Care store adheres to the highest environmental standards and offers many options for drivers who are environmentally conscious. We recycle about 75 percent of the waste generated in our stores, including used tires, fluids and other automotive products. In early 2008, we became the first national automotive retailer to switch to using environmentally-friendly steel wheel weights instead of lead wheel weights. 
Join Our Crew
Want your work to make a difference? When you're part of the Firestone Complete Auto Care Crew, it can! Not only will you join a nationwide team of passionate auto technicians, service specialists, and retail professionals, but you'll also help motorists keep their cars and tires in tip-top shape. Plus, you'll enjoy various industry-leading perks, including competitive pay, performance-based incentives, paid training, and healthcare benefits. Call 877-734-9512, text BRIDGESTONE to 97211*, or find your nearest Firestone Complete Auto Care to browse job openings.