Electric & Hybrid Vehicle Services
Get specialized repairs and maintenance for your EV or hybrid vehicle.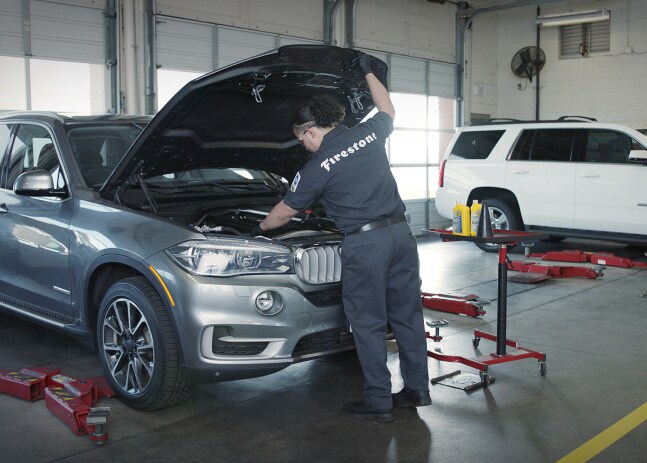 KEEP YOUR ELECTRIC OR HYBRID VEHICLE POWERED UP
Hybrid and electric vehicles don't require the same maintenance schedule as traditional gas-powered vehicles. But when something seems off, and you need someone to take a look, you can count on the experts at Firestone Complete Auto Care. Our technicians have completed safety training to perform conventional and low-voltage services, including:
Hybrid and electric vehicle 12-volt battery repair
Hybrid car engine repair
General EV and hybrid car maintenance for the tires, brakes, steering and suspension systems
Fluid and filter replacements
SCHEDULE AN APPOINTMENT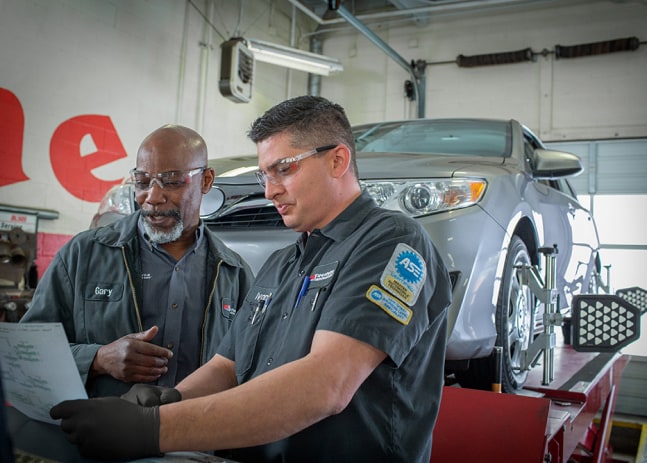 ELECTRIC VS. HYBRID
While electric vehicles (EVs) and most hybrid vehicles both use high-voltage energy for propulsion, they have a few key differences. EVs run solely on electricity stored in a high-voltage battery pack and are typically charged on an external power source. A hybrid vehicle has two forms of propulsion or assisted propulsion: one electric and one typically gas-powered. The electric motor used for propulsion is powered by a high-voltage battery pack that is typically recharged by regenerative braking, a system that captures energy created by coasting or braking to help recharge the high-voltage battery pack.
Hybrids can tend to have a longer overall range than EVs because they can rely on both electricity and gas. EVs produce fewer emissions. Firestone Complete Auto Care provides service and maintenance for both electric and hybrid vehicles.
ELECTRIC & HYBRID CAR MAINTENANCE SERVICES
From the tires and alignment to the steering system, EV and hybrid vehicles have a lot of the same components as traditional vehicles, so they will have similar maintenance requirements. The difference is the frequency of services and a greater focus on maintaining high-voltage power electronics. The experts at Firestone Complete Auto Care have experience with EVs and hybrid vehicles and can provide the following services.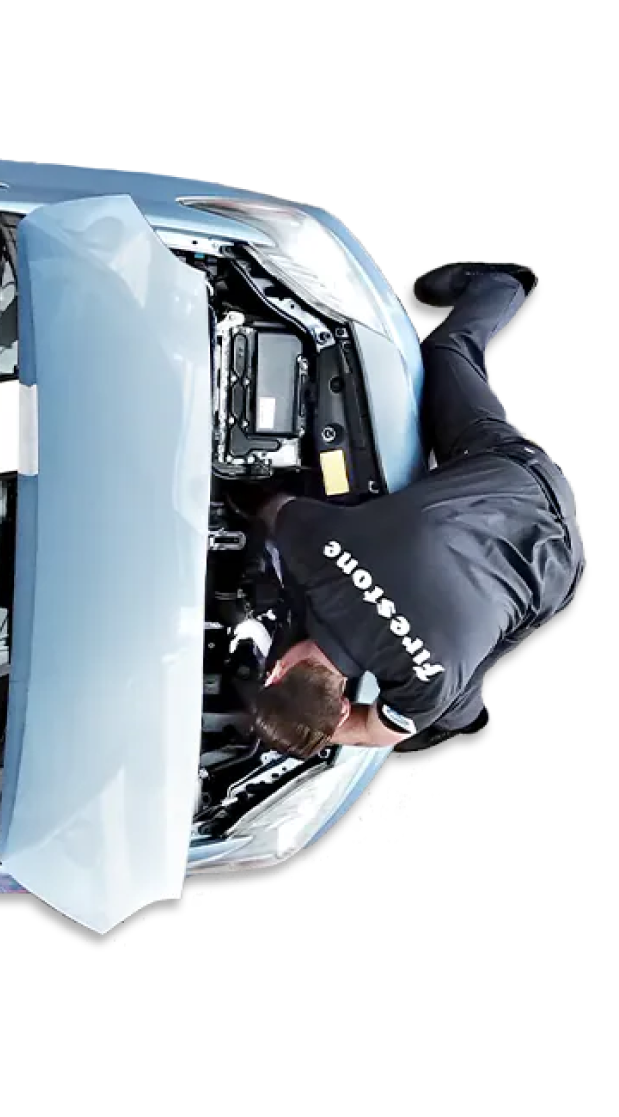 GENERAL MAINTENANCE

GENERAL MAINTENANCE
At Firestone Complete Auto Care, we perform maintenance services like brake inspections and repairs, alignments, tire repairs and even oil changes (yes, hybrids and even some extended range electric vehicles have combustion engines needing occasional services). Our technicians are trained in the unique needs of EVs and hybrid vehicles so they can inspect and diagnose issues before recommending the best way to proceed.
Repairs and maintenance costs can vary for EVs and hybrid vehicles depending on the make and model of the car and the extent of the repairs.
ROUTINE CHECKUPS
ROUTINE CHECKUPS
While EVs and hybrid vehicles may require less frequent maintenance, it's still necessary to conduct regular checkups to ensure everything is running properly and catch any issues early. Check your owner's manual for the recommended timeframe for scheduled maintenance which may include the following:
Tire rotation
Fluid level inspections and checking for leaks
Steering inspection
Safety system check
Suspension inspection     
Checking brakes for signs of wear or damage and lubricating hardware if needed
We can perform the manufacturer-suggested maintenance items on your hybrid and electric vehicles, which are sometimes similar and sometimes different from conventional cars.
EV AND HYBRID BATTERY REPAIRS

EV AND HYBRID BATTERY REPAIRS
High-voltage battery repairs for EV and hybrid vehicles are also referred to as high-voltage system diagnostics and repairs. As more hybrid and electric vehicles are sold and enter our stores, our technicians continue to adapt to newer vehicle technology.  Some of our stores have deeper diagnostic capability regarding high-voltage systems.
Store-by-store capabilities may vary for some limited services. Contact your local Firestone for more EV service details.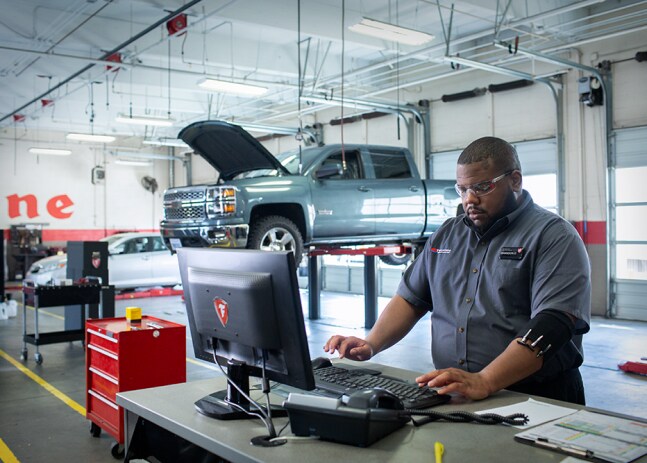 THE COST OF EV AND HYBRID CAR MAINTENANCE
Hybrid vehicles, while more budget-friendly when it comes to fuel costs, have a lot of the same maintenance needs as traditional internal combustion engine (ICE) vehicles. That means you should still expect to pay for things like oil changes, engine repairs, fluid exchanges and various other repairs, although the frequency may be reduced.
With a BEV (Battery Electric Vehicle), you'll likely avoid costs associated with combustion engines, such as oil and some other fluid changes. Repairs and maintenance will mostly be related to the 12-volt battery, other fluid inspections, the brakes and the tires. An EREV (Extended Range Electric Vehicle), on the other hand, is equipped with a standard ICE (internal combustion engine) to assist with range, so it will require the same maintenance as a traditional gas-powered vehicle.
For a quote on specific repairs or maintenance for EV or hybrid vehicles, get in touch with the experts at Firestone Complete Auto Care.